Cafe racer with an electric heart
Views: 234 Author: Site Editor Publish Time: 2019-10-03 Origin: Site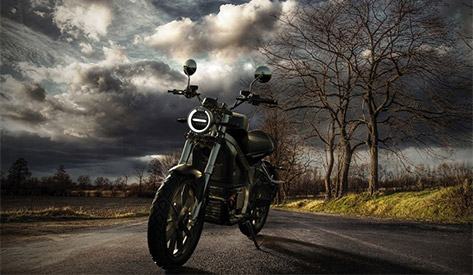 At the EICMA in Milan, the electric motorcycle supplier Horwin is presenting two new electric light motorcycles with the models CR6 and CR6 Pro.
With his two new models, which will celebrate their premiere at the EICMA, Horwin is opting for the currently trendy café racer look. Accordingly, the abbreviation CR for Café Racer shapes the model name. The two new models CR6 and CR6 Pro are located in the L3e class, which corresponds to 125cc models. Horwin uses castings made of an aluminum-magnesium alloy for the frame. A USD fork is used at the front and a central spring strut at the rear. The 17-inch cast wheels are equipped with 100/80 front and 120/80 rear tires.
150 km range
The CR6 is powered by a 7.2 kW and 180 Nm electric motor. The Pro is powered by an 11 kW and 200 Nm engine. The range of the Horwin models with the permanently installed and armored battery pack is around 150 km (at 45 km / h average speed). Thanks to the integrated charger, the 55 Ah large lithium-ion battery from Panasonic is fully charged to 80% (CR6 PRO) or 100% (CR6) at any normal socket within three hours. Enough energy should be bunkered for distances of 20 to 30 kilometers in 20 minutes.
Maximum speed of 105 km / h
The nearly 140 kg CR6 models are said to achieve the sprint from zero to 60 km / h in six seconds (Pro: 5 seconds), the top speed is stated as 95 km / h for the CR6 and 105 km / h for the CR6 Pro , The lighting uses LED technology, the cockpit has a digital display and the ignition does not use a conventional key. It is decelerated with a CBS braking system with a 240 disc at the front and a 180 disc at the rear wheel. The models are approved for two people, the seat height is 815 mm, the load 170 kg. The Pro variant differs from the base with a five-speed gearbox and a slightly different look.
The Horwin CR6 is available from € 5,890 in black, white, green metallic or blue metallic and the Horwin CR6 Pro from € 6,990 exclusively in black. Both versions will be available in Germany and Austria from the end of November.
Horwin Europe GmbH is based in Kammersdorf (Austria) and has exclusive European sales rights to several electric vehicle manufacturers. With the CR6 and CR6 Pro models now presented, Horwin Europe is now launching its own vehicles for the first time. The two-wheelers are manufactured in China. Behind Horwin are the entrepreneurial families Zhou WEI from Changzhou (China) and Heinzl (Heinzl Group) from Lower Austria.